It was many years ago that I was at the barn with my two horses grooming my mare Amity to go riding, when fifteen Jersey cows showed up. My friend Joanna was nearby and helped me to get them back to a farm nearby. She had told me there was a new young farmer in town, but I hadn't met him, and when we returned the cows to the field, he was nowhere to be found. Off partying, probably! It was later that I met Dick, who ended up being my husband.
I was charmed by the eyes on those Jersey cows, and one day when I was visiting him, he had a cow that had milk fever and needed special attention. He handed me a pail which had some calcium warming in it, and put a lollipop in my mouth and said, "Come give me a hand." And I did follow him out there to the field, and he administered the calcium intravenously. I gave a small amount of assistance, but it was quite insignificant. And after the calcium was administered, the cow looked up, got to her feet and went back to happily eating. I was so impressed that I agreed to go out on a date!
It was soon after that I met Dick's tiny daughter Jaka, and she charmed me ever so much as the cows. The three of us did all kinds of things together and we had a wonderful time. Many dates later and trips to the store, skiing, riding horses with Jaka, Dick and I did decide to get married.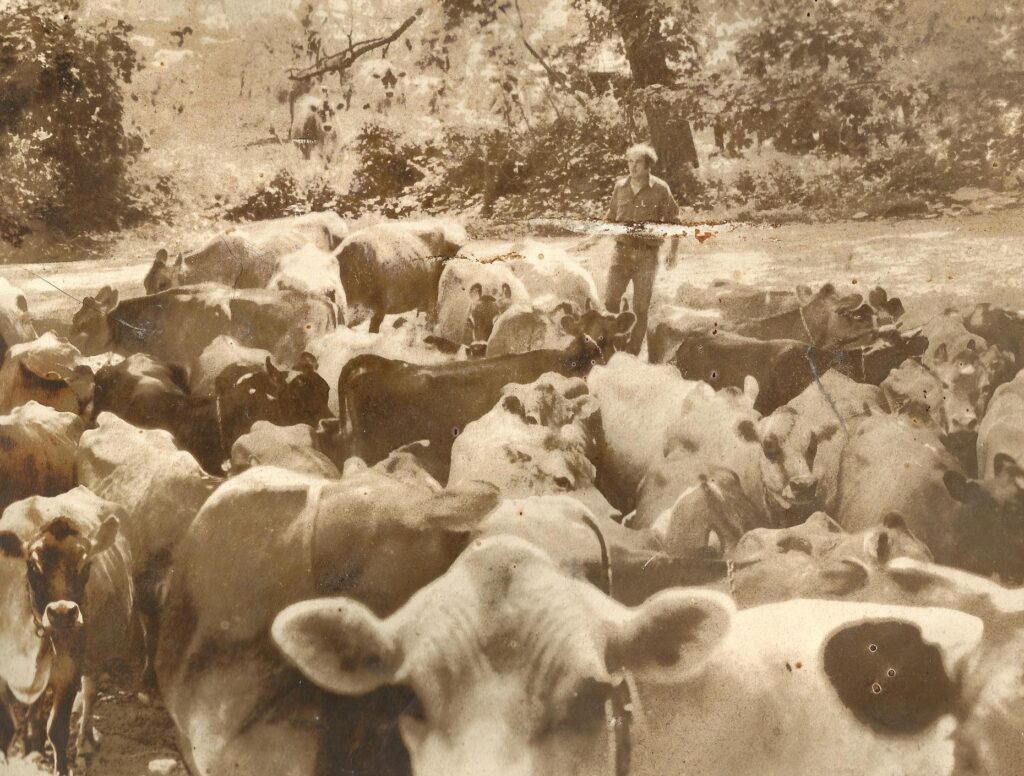 We got married in Tyringham, Massachusetts, where Dick had his herd mixed in with another larger herd of cows called Howard Farm. We set out to find our own farm and looked to New York, because the farms in Massachusetts and Vermont were prohibitively expensive. We settled on one in Hartford, New York. We named the farm Amity Farm, after my Morgan mare, Green Meads Amity. Amity means friendship and that was meant as the theme for our farm, and the theme for how we treated our cows.
Jaka was always a tremendous help on the farm. Even when she was very tiny, she always wanted to help, just like my granddaughter Sadie. After telling her she couldn't help thousands of times, I finally realized she could help, and she was a tremendous help. Her being with us on the farm made such a difference in our daily lives and enriched it, and hopefully enriched her life as well. There was an awful lot of hard work, and there was heartbreak. Any time there are many many animals to care for, they will grow old, they will get sick, and things will happen.
I found for my art that the farm was just a treasure of picture memories. I couldn't go anywhere without being inspired by what was around me. The animals, the landscape, the air, the smells (good and bad!).
I will have to say a farm is a great place for a kid to grow up. The financial rewards do not exist, however, but still it taught responsibility, daily duty, discipline, and care necessary to have the earth, the fields, for hay, corn or pasture, needed attention and care to do well, and of course the animals needed daily attention in order to thrive and be healthy.
But there was great joy. The birth of a calf, bringing the cows to a new field and having them jumping happily, Dick mowing and getting haylage in, putting up some beautiful hay, trimming the pastures so they grew back with short, fresh grass for the cows to eat, and Dick looking at his harvest in a good year and realizing that it would take a long time to get this chopped and piled for the cows to eat in the coming winter. Jaka helping with the calves and then taking her own animals down to the fair was a delight and she showed so much responsibility in caring for the animals. All were rewards.