The silk painting on the scarves is a very different process than batik. As with batik the fabric, the silk is washed well before I begin the dyeing and painting.
I dye the scarf first in sections and sometimes use shibori techniques as part of the early process. I have fun experimenting outdoors with my dye buckets and use the fiber reactive dye I use for batik, but vinegar is added in the bath as this is a protein fabric. Silk can not withstand bleach as I found out years ago when I tried it only to have the bleached areas fall apart.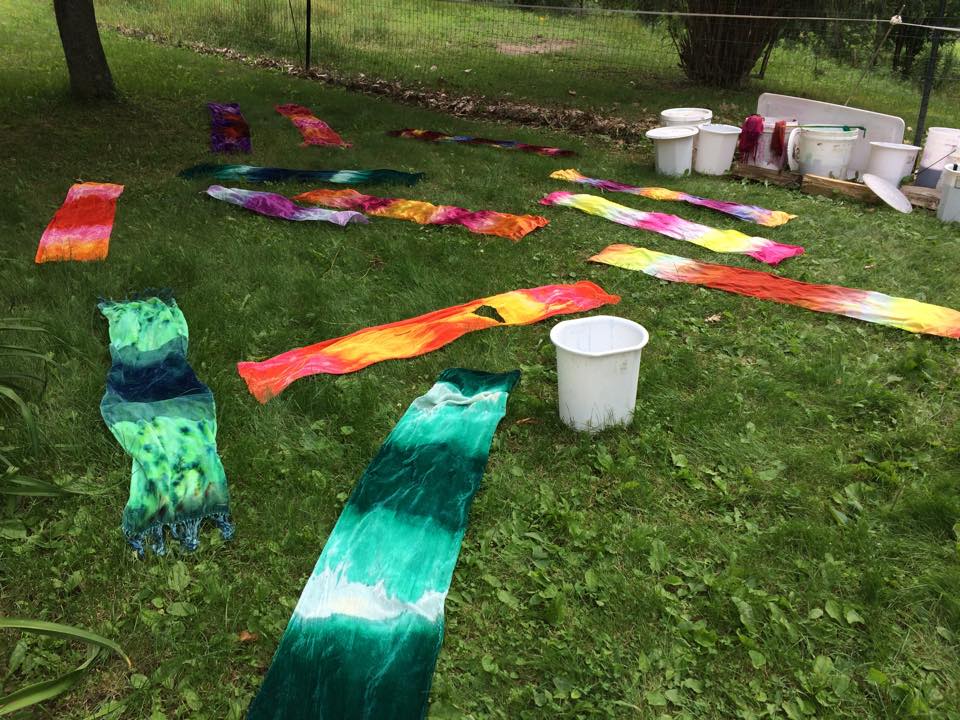 I have found a few cleaners I can use to lessen the colors as I like ethereal floating effects. After that I examine the scarves to find what is revealed in the abstractions of the early dyes. I paint on silk as a watercolor technique using silk dyes and can add some details with fabric markers. At the end the scarves are rinsed and put in a pail of silk dye set where they are circulated for five minutes before being washed out, dried and then carefully ironed.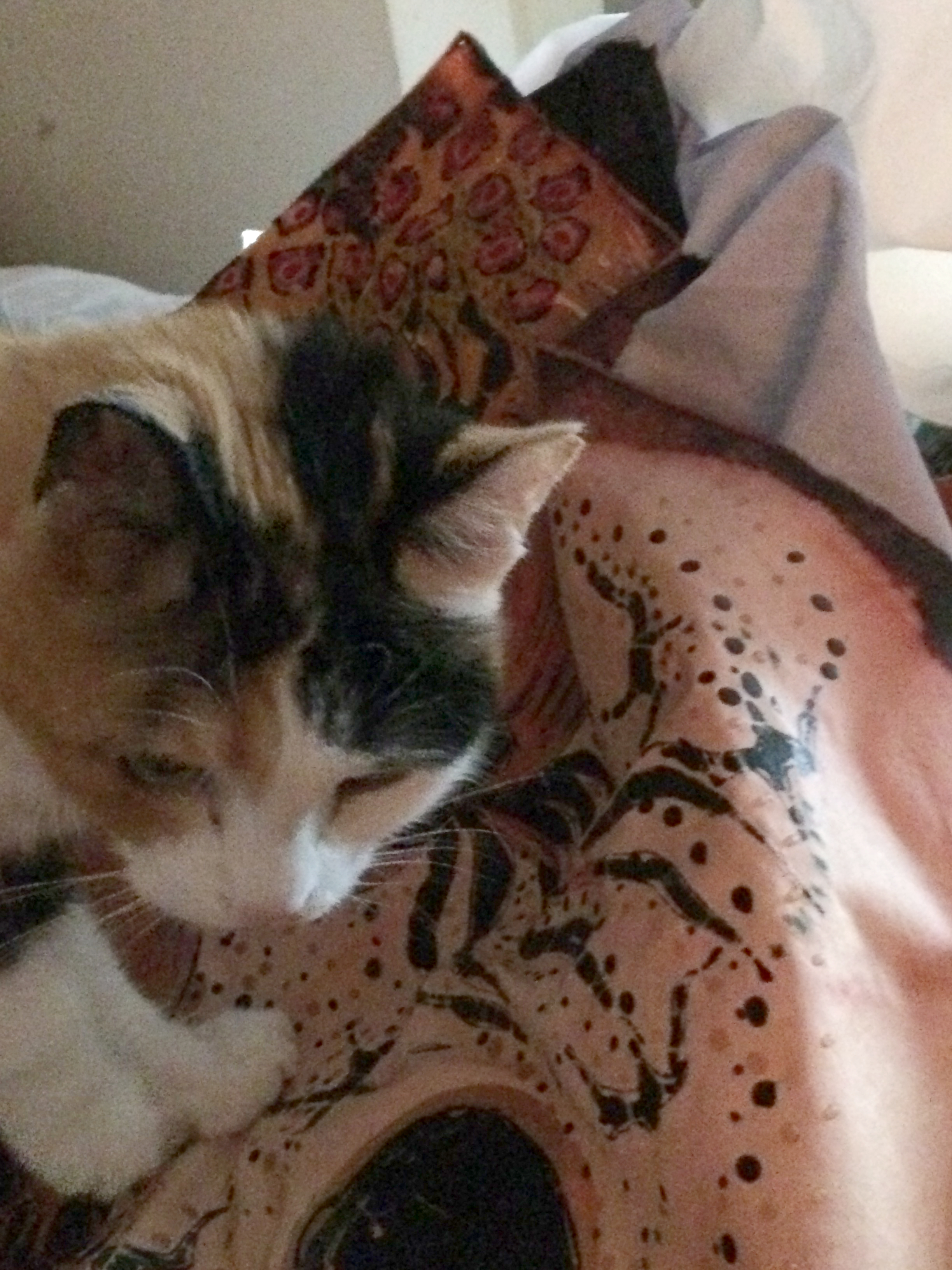 The other night in my studio my cat Singer was watching me paint on the scarves and got carried away in the excitement. She stepped forward into one of the small dishes of blue green silk dye. I watched her small paw go in and with brush in hand I lifted my poor kitty by the scruff of her neck up and away from taking the next step. The blue green dye splattered to the scarf I was working on ("Mare and Foal on a New Day").
Poor Singer had a paper towel wrapped under her foot as we headed to the sink. Yes, cats hate water, and Singer had never had a bath in her life. She cried as I washed her little paw under the warm swirling water which looked terrifying to her in the bathroom sink near my (our) studio.
My good friend Kate Austin-Avon suggested that I should have captured Singer's paw print on paper first, but I had none handy and am not that fast a thinker. At any rate the Mare and Foal scarf has Singer's touch added to it. I have always said that I am an intermediary as I create my art. With batik the wax spreads and has a mind of it's own. Dyes interact differently as the colors overlap and I take what comes and roll with it. For this silk scarf Singer helped me create!
So these photos above show the "Mare and Foal on a New Day" scarf complete with Singer's touch… It will be at the Bedlam Farm Open House, on Columbus Day Weekend, Saturday and Sunday, October 7 and 8, 11 a.m. to 4 p.m. both days. Bedlam Farm is located at 2502 State Route 22, Cambridge, New York.
Below are some other scarves and sashes that will be for sale at the Open House.