Dick and I had searched for a farm for almost a year before finding this one in Washington County NY. We had traveled through the great snowstorm of 1978, driving out of Massachusetts before Boston was shut down in the heavy snow and wind. We drove into Maine as quickly as we could just in front of the storms fury. We decided to stop for supper at a little dinner and half an hour later when we emerged the full force of the storm was upon us. The wind and heavy snow overwhelmed the highway making it  hard to see and slowing us to a crawl. We finally pulled in to a small motel for the night to sleep as the drifts piled up outside,  and the world was obscured.
We had a meeting with an FHA (Farm Service Agency) agent in the morning.  Fortunately the meeting was not too early as we had to wait for huge buckets of snow and drifts to be cleared from parking lots and the roads. Our truck also needed a lot of sweeping and shoveling to be available.
We had had our eye on an old Maine farm with abundant pasture and lots of cropland. I especially liked it because the house and barn were attached by a woodshed area and I could visualize myself tiptoeing to the barn even in my jammies to check on a calving or sick animal.
It did not take long to hear that we did not get the loan for that farm we liked. We were quickly shut down. We did not have enough capital, or resources, our debt per cow would be way higher than we could handle.
Our loan was not approved, done!
Disappointed we headed west through New Hampshire and into Vermont as the storm continued to rage. The Vermont hills made things much more difficult and the traffic was precariously slow. Occasionally we would pass a car floundering at the road's edge and hope we could keep going. With not so many miles under our belt we stopped for food and a night's sleep. We were in ski country.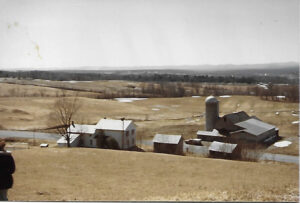 The next morning in the brilliant sun we headed for the slopes! Never again did we encounter this deep powder snow heaped fresh and clean on the steep hillside. I had skied for quite a few years but was used to packed crunchy, even icy snow and I had trouble turning. Falling down was so cushioned, who could mind. Dick hadn't skied that long and had none of the  trained responses I had and he cruised along just fine.
The next day we met an old auctioneer realtor, Tom Whitaker who led us to Hartford NY to meet with Havard Petteys who became the town Tax Assessor. It was then that we saw our farm for the first time. We looked at this old abandoned farm in heaping drifts of snow. Route 40, the main highway that divided the house and barn, looked like a tiny one lane road and the snow drifts were right on the porch pushing at the windows. The barn looked nice, still bedded with bright pine shavings from the auction over a year ago. The old gutter chain that ran behind the cows to convey the manure out to a spreader was rusted and looked as if it's days were past.
The house was once a magnificent home! Many walls had wainscoting and fancy wooden scrolling was at the top of the walls where they met the ceilings. The ceilings were 12 foot high and there were 12 large rooms in the house with a small storage room, mud room and one bathroom. The rooms were full of old clothes, toys, newspapers, assorted trash all mixed with rat poop! Some of the windows were cracked, one room had a bullet hole, plaster and lathe were falling from place in many rooms. Dead flies lined the window sills and cobwebs were everywhere. The refrigerator still had food in it from a year ago.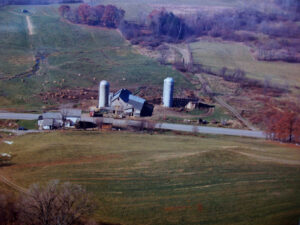 We looked at the soil maps and got an idea of the lay of land and types of soil. There was over 250 acres, pasture, farmland and woods as well an enchanting little brook that ran east to west, south of the house and barn.
The price was much less than the farms in Maine, New Hampshire and Vermont. We applied for a loan and headed farther west into more drifting snow to see more beautiful farms in the mid western part of NY .
We found ourselves getting the loan and able to purchase the Hartford NY farm that spring. So here we stood that light rainy day rolling up our sleeves to clean up and rebuild for the arrival of our jerseys. My Dad was with us to help. A man always looking for a challenge.
Our cows were all jerseys. They are the smallest breed of cow and very high in butterfat and the highest in protein of all breeds, the content cow. They do not have the volume of milk that the large Holstein milk queens have. Component pricing (paying for what was in the milk) had barely appeared on the horizon at that time.
The rumors were already starting, Jerseys! They won't last a year!