As my good studio cat Singer left the earth I walked with her tiny body that had given me joy for close to sixteen years. Her purr was strong and her little body would vibrate filled with happiness and gratitude as she purred and curled up next to me over those years. Steppin had left us about two weeks previous and I brought Singer to her grave at the south end of the property and buried her there with Steppin. Singer and Steppin were both born as autumn approached in 2002.
They were the last animals to remain from our beloved farm and with their passing our physical connection to that farm was gone. The many memories, good and bad are etched in my husband Dick's and my own mind. Letting go for the twelve years since we sold the farm was especially hard on Dick. It was his life and even though he could no longer do the work it did not stop the sting of giving up the farm. Part of him was empty. Giving up these two beloved animals that were born there was hard, but the loss was much bigger, a change of life is taking place.
I walked to the clothes rack by the door where the barn jackets from winter  hung. It is warm now and they needed washing. I looked at them, I could smell Steppin on them. Cows have a good smell separate from manure, to me it is sweet and full of nostalgia. The jackets also have Steppin's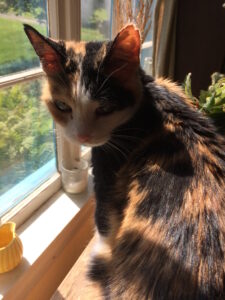 hair all over them. She had not finished shedding her coat when she died. I realized that washing them would wash away that hair and that smell I loved and I have put it off for other days to come. It will happen.
The day that Singer died I was gifted a pony. I met my neighbor Monika, years ago on a cold windy winter day high on the hill behind our home. Snow was blowing and it was cold but the sun reflected magnificent light off the rippled snow casting a magic that only winter can bring. I saw her again the next winter and few other times and one day walked her to my place to meet my cow and llama. Then showed her my batik art that she loved and she selected a print of  "Autumn Sundance" to give her sister who had many horses.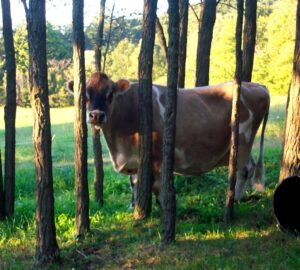 I saw Monika and her pretty border collie Chablis after Steppin died and the question of who would become a new friend for Vanilla came up. I replied I would really like to get a horse. I had owned horses for close to forty years and the day I had to part with my two mares was the hardest thing I have had to do. Monika's sister had many horses and had saved a young pony mare from a bad situation a year ago and said she would give her to me for free!
So then Christa and her husband drove from Maryland with this beautiful pony mare for over eight hours to bring her to me on that Friday that Singer died. Thankfully, the day ended well with her here. As she got out of the trailer, she saw a llama for the first time in her life and she was scared. But as we walked her around the field next to the shed, she calmed down.
Eventually, after many apples, carrots and offers of hay, we put her in the small fenced area near the shed where Vanilla could greet her in an unfriendly way, but she was not to be put off by it. She actually seemed to like the shed and accepted it as her new home with remarkable ease. The day closed with a happy feeling of connecting to the past, to my life with horses. And after checking on her many times before going to bed, I went to sleep with a feeling of peace and restoring a lost connection.