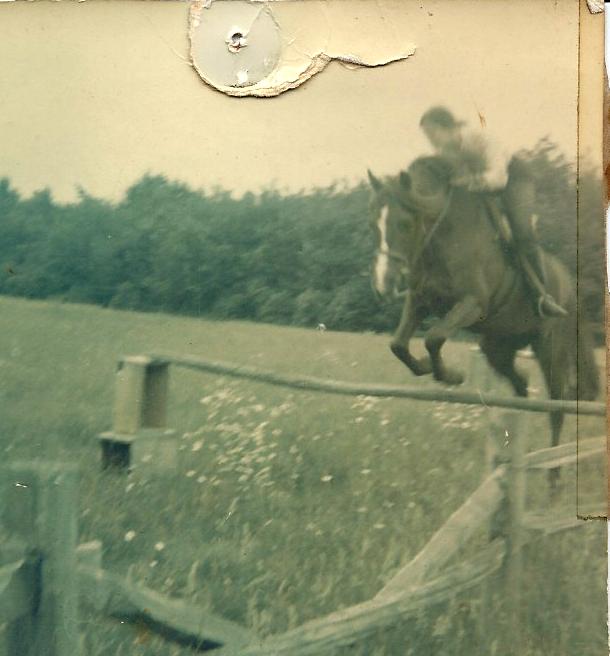 Childhood memories of Justin Morgan, revisited
I've been dreaming a lot about my horses, which I think I've spoken about — missing them so much. And I began to go back and read one of the books that I've had for almost 50 years now, The Morgan Horse by Jeanne Mellin.
Jeanne is an equine artist but especially a lover of Morgan horses, and the Morgan horses are the ones that I had. They took my heart very early on. And I have to give credit also to Marguerite Henry for her children's book that I read, Justin Morgan Had A Horse. Both of these books inspired me tremendously. And after I had gotten to ride at a nearby stable where I worked in return for riding lessons, I finally saved enough money with the help of my aunt and uncle, to buy my first horse, Justa Dream. You can find a blog post about my experience with this beautiful fella here.
Rereading Jeanne Mellin's book about the first Morgan horse, I rediscovered the beginnings of this amazing horse. Justin Morgan was a singing and music teacher in upstate Vermont way back in the late 1700's. He was known as a composer and, it's interesting to note, that the people in Vermont at that time valued music so much in their children's education that they paid this traveling music teacher to come to their town and home. So, Justin Morgan took this first Morgan horse whose name was Figure, in payment for a debt when Figure was two years old. He wasn't overly pleased with the deal, but it was what he got out of the debt and the two year old colt traipsed along behind him and another older horse as he headed from Springfield, Massachusetts, up to his home in Randolph, Vermont. Figure was a very small colt. He never grew to be more than fourteen hands, two inches which is considered pony size. (A hand is a measure of horses, which is four inches). He did grow to be extremely powerful, though, and Justin Morgan leased him to a neighboring woodsman when he was four years old. He was used in the woods, pulling huge logs out of the wood lots, and frequently pulled logs that no other horse could move. The neighborhood began to hear about how strong he was, and after working all day long in the woods, his lease owner would bring him out to compete against other horses, either pulling logs in harness, pulling a cart in races, or in galloping races with other horses, and he always won.
Horses were brought up to Vermont to compete with him from other states; some that had won impressive races, and he also managed to conquer them. After a number of years, when the lease was up, Justin Morgan took the horse back to be with him, and he used the horse to make his rounds for teaching his music in the neighborhood. At this time, Justin Morgan made Figure available at stud (he was available to breed mares) and there were many mares brought to him as his fame had spread far and wide. This, to me, must have been a wonderful time for the horse Figure, to be with a quiet small master who only wanted to ride him around to do his duties. But it was not to last.
The singing master became afflicted with tuberculosis and died after a number of years, at which point the poor horse who after that time became known as the Justin Morgan horse, was sold from one owner to another. He was used to sire colts and of course he was in great demand because he had such a wonderful performance. But as he got older, he fell into the hands of people that worked the daylights out of him, and he came to a sad ending after he was retired at 30 years out in a pasture. He suffered an injury, and receiving no attention, died from a bad infection. Such a sad ending for a horse that did so much.
This brings me to mind how much horses have given us over the years. When I think back to the times that horses have served in battle, it's heartbreaking the sacrifices they have made. Men too have made many sacrifices in war, and we need to respect and honor them. But the men could choose to go or not, and the horses could not, which always gives me a warm heart for the horses. The lesson on life is so many of us, animal and human, have given so much, and yet very often the ones who deserve the most credit do not receive it in their lifetime. An example of the many veterans who have been honored recently who have been gone for many many years, and of course some, never honored at all.
The Justin Morgan horse established a whole new breed of horse: Small, but powerful.
Above are some photos of my first horse, Justa Dream, and below you see my second horse, a mare, Amity, for which the farm and my batik business were named.