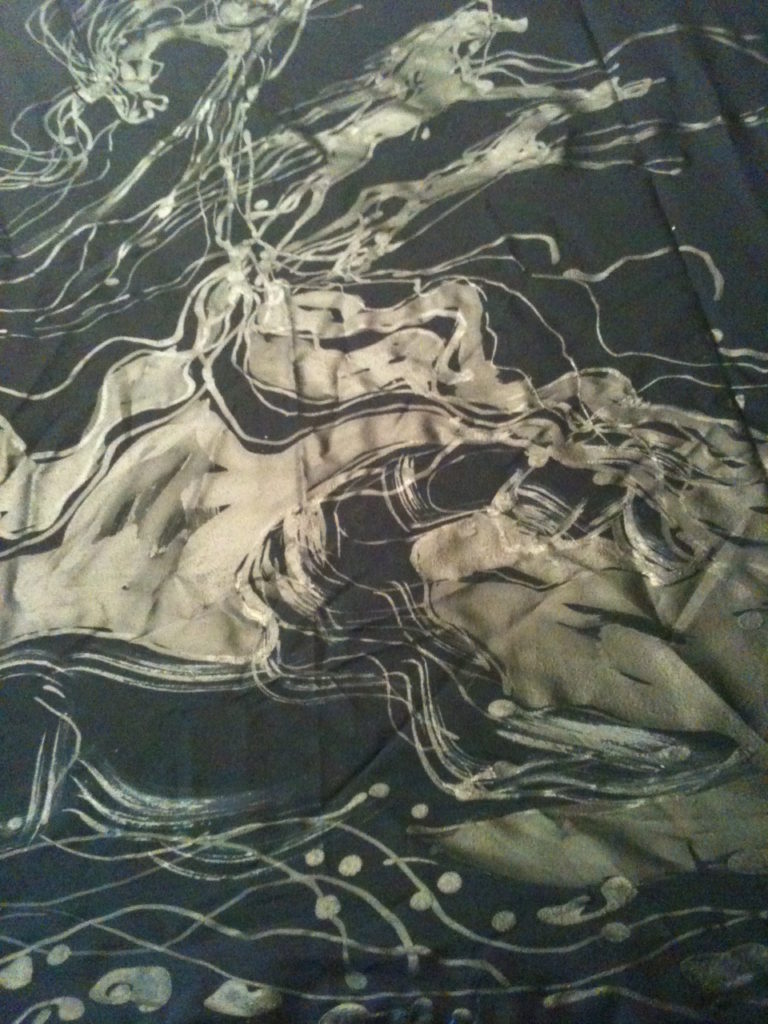 Sometimes I have tried a different approach to a batik and I have started working with the black fabric and gone through many stages of bleaching out and re-dyeing color in.
This first photo shows a picture of the wax on the black fabric in the beginning of my batik, Caught in the Thunderstorm. The strange thing about looking at it here is that where the wax is looks light colored, but this is the section that is holding the black color pure as it goes into the bleach.
This next picture shows the batik after it has gone through several dyebaths to lighten it and I have accepted and protected some sections with wax to achieve this look. Every single piece of black fabric will have a slightly different response to bleaching.
This particular fabric chose to leave rusty colored stains in the fabric, and light beige. Some might bleach out to a much lighter color. Others might have a tint of purple or blue remaining. It always will be a surprise. Never try this with silk as the bleach will disintegrate the silk.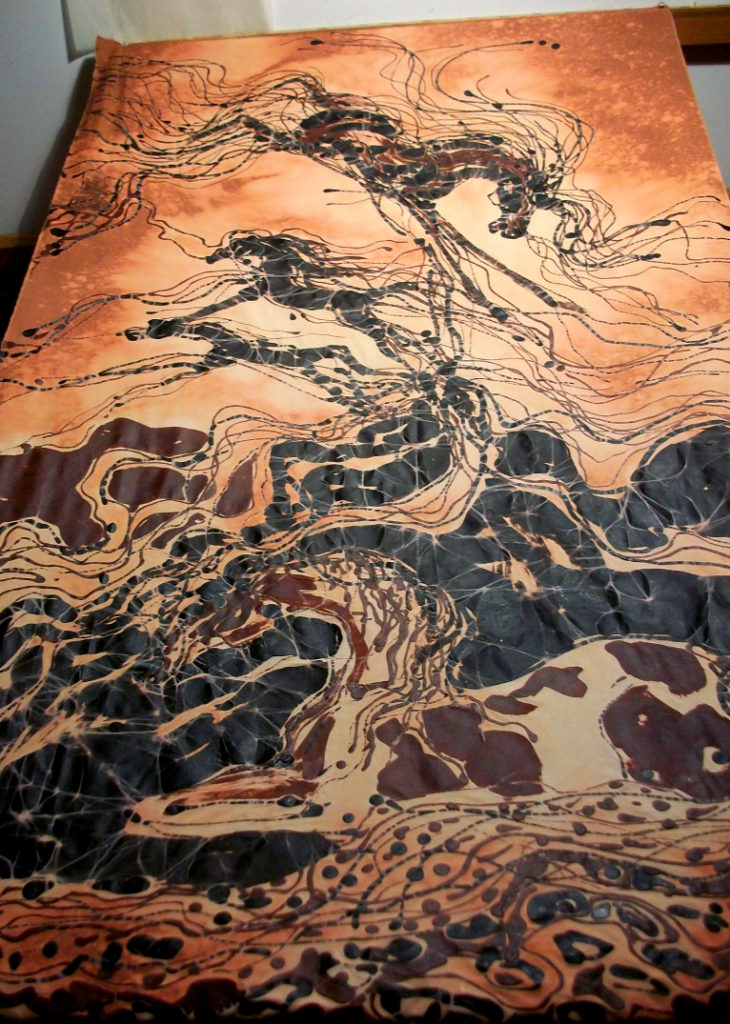 Here, in the third picture (below), I have painted dyes in to the areas that I want to change the color on. More wax has also been added to the batik to save the buff and rusty stain colors that I want to keep. It now is waiting to be protected to go into the dyebath for more colors to be added.
Below is a close-up image of the bottom of the batik with dye painted on it. It will now go into more dyebaths and I will protect sections of these colors with the tjanting and brushes with wax.
And below is the final batik, Caught in the Thunderstorm. A picture of the sky spirits, using the horse. It went in to several more dyebaths and I actually sprayed some bleach on it in sections to get a mottled effect.
And finally, the wax was ironed out of the batik to achieve these interesting color combinations. Batik requires the artist to think about the negative space, and it is even more of a challenge when starting with black fabric. One of the most challenging stages is the very first one, where you paint wax on the black fabric. It can be very difficult to see where you have painted the wax.
I like this process. It is a bit more time consuming than starting with white fabric, but it has a very unique look, and I have done several batik in this style. You can see my batik River Sunrise, Crows Alone, Horse Born of Earth Water and Sky, and Horse through a Web of Fire. Check them out in the Gallery section of the website.
People ask me all the time, "How do you do batik?" I used to try to write summaries, but now I can just say go to my website!
Last Friday, Maria Wulf of Bedlam Farm came and took video of me doing batik. She wrote some beautiful blog posts about each part of the tutorial on her website, fullmoonfiberart.com, and you can read them and watch the videos by clicking the links below.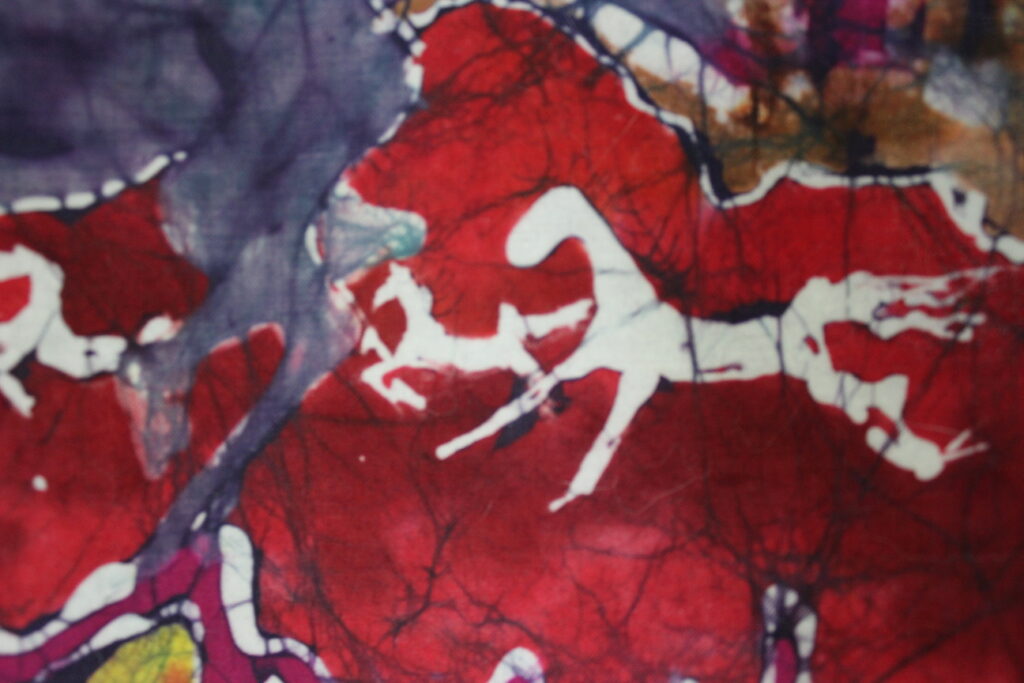 People ask how to start batik without making a big investment in supplies. I will have to recommend getting some old sheets, some RIT dye or ready-mixed dye at your local craft store, along with paraffin wax and cheap brushes. (DharmaTrading.com has extensive supplies and that is where I purchased my tjanting tool.)
Buy the primary colors of your dye: Red, blue, yellow — and from them you can make infinite combinations. You will also need something to keep your wax hot. An old electric frying pan works well, and wax can be heated in a double boiler. Never put wax directly on the stove, or overheat it, as wax is extremely flammable. You can make something to stretch out of canvas stretchers, or as I have done in my studio, I have added 2x4s and 2x2s to plywood so that I can stretch larger fabric over that to apply the wax.
After you have applied your design with a brush or a tjanting, it is ready for your first dye bath. If you want to start with very small batik, you can actually dye fabric in a mason jar. As you get to a larger size, you will probably want to get plastic pails. Immerse your fabric in your dye bath starting with the lightest shade that you want to use, and stir it frequently to keep the color even. The batik should remain in the dye for 15 minutes to half an hour, depending on how strong the dye was mixed and how dark the color is.
After your fabric is appearing a shade darker than you desire (because it is wet), remove it from your dye bath and rinse thoroughly in a tub or sink. At this point, I would normally add a setting stage to my dye process, but as you're learning, you won't need to do this.
Once your fabric is dry, you can add another stage of wax to it. And when you've finished your design, go on to another dye bath in a slightly darker shade. Here you will notice that some colors are complimentary and will make a nice new combination as yellow and red will make orange. The opposite is true. If you take red and green, you will make brown. So you may want to use test strips as you get ready to dye your fabric. I will do many stages of dye baths as I'm moving on, and at a certain point in the process, very often I will bleach sections out so that I can use colors that would otherwise make a muddy shade.
You don't need to make a complicated batik with ten dye baths and tons of color combinations. You can remain simple, especially in the beginning. Another thing that you can try is painting dye or even colored inks on small sections of your design, where you have little areas surrounded by wax. This can give you some bright accents of different colors that after they are dry, you can protect with wax and avoid doing a whole dye bath to get these little jewels of color.
When you are satisfied that you have reached the end of your dyeing, your batik, when dry, will be ready to iron out between paper towel and newspapers, or plain newsprint if you can find it. In the pictures below you will see me ironing my batik out between plain newsprint. If it has print on it, the print can be transferred to the fabric, so never have a newspaper next to your artwork. You can keep it away with paper towel.
After you have ironed as much as you can out, the batik should be completed. The iron also acts to set the dyes a little bit more, and your batik will be ready to frame, add to a wall hanging, or make something fun out of.
My batik process is much more complicated and if you find you like doing batik, I would urge you to go to my other tutorials in my website to see the many other things I do in mixing dyes, painting, setting dye, wax etching and multiple dye baths.
Starting with black fabric is an interesting change from how I usually begin with white fabric. It can be a bit difficult seeing where the wax has been applied when you are working with black fabric, but by shining the light a certain way, you do create a reflection that you can build on.
Here is the first wax stage of my new batik, "Thunderstorm," which will be part of a series of batik with horses from the wind. After this stage, the fabric will be bleached in stages to allow for other colors to be dyed in.
This fabric came from Dharma Trading Company, and is a black cotton/rayon mix. I like to work with Dharma Trading for purchasing my fabric, because they have fabric that is the most suitable for accepting the dye and withstanding the bleaching process (Do not bleach silk!).
A word of caution when bleaching color out: Bleach is very bad to inhale. It should be done outdoors or in a well-ventilated area with a strong exhaust fan. But worse than the bleach itself, is the process of stopping the bleach.
There are three different ways of getting the bleach neutralized:
1. With a bath of acid as in milking system acid. A light addition of this to plain water will help to neutralize the bleach.
2. Vinegar. Not as strong, but is an effective way of getting rid of the bleach if your bleach solution is not too strong.
3. "Bleach Stop", sodium thiosulfate crystals. 
The most toxic of fumes can result with the mix of acid and bleach. In strong situations, it can kill. So I recommend rinsing as much bleach out of the fabric as you can, doing a pre-rinse with the vinegar and water (mostly water), and then putting the fabric into the stronger solution of either Bleach Stop or the milk room acid, mixed with a lot of water. And when in the bath, I would agitate it and let it sit for approximately 15 minutes, after which the bleach will be neutralized, and then rinse in plain water and let dry.
After that point, it can be handled as you would any batik, by dyeing in a new color and proceeding with the normal batik process of waxing what you would want to keep and dyeing. Sometimes I will re-bleach to achieve a wide range of color variations.
Shown here are the first waxing of the new batik, "Thunderstorm," which I will be working on for some weeks, a protective face mask, which should be worn when working indoors and again only in a well-ventilated area with a strong exhaust fan; and then the tub with several of my bleached batik sitting in the acid rinse. Included are also my finished batik, which is the new "River Sunrise", "Horse Born from Earth, Water, Sky," and my old favorite, "Horse Through Web of Fire."
Sunburst was finished last week.
I have worked on it for over a year.It went through many waxing and dyeing stages. It also has been bleached out and re-dyed twice.
As I came to the final dye bath, I set the dye and dried the batik. I wanted to add some deep red and red violet accents. This part of the batik was painted on at the end with a small brush. Pictures are below of me painting dye directly on this batik.
I then used paper towels to rub the excess dye away and I let it dry. After drying, which allowed the maximum amount of dye to penetrate the fabric, it was rinsed in cold water in my giant tub. Then I immersed it in a tub of water mixed with Dharma dye fixative and stirred it occasionally for 15 minutes.
When I removed it, I hung it to dry on the line outdoors in the shade nearby and my batik was released to the wind.
It is now on display at the Saratoga Springs Visitors Center and I hope you will be able to get down to see. Click here for more information about my upcoming events and shows.
My fans are always asking me how I make my batik art. I thought I would make a poster to show them how it's done!
This is a simplified explanation of all the steps that are involved, but I thought I should share it with you here on my blog as well.
When the Batik has gone through all the waxing, dyeing and rinsing stages desired it is time to remove the wax. See my photos of batik before the wax is removed. You can see quite a build up of wax.There are several ways to remove wax. First, many scrape the loose wax from the fabric before anything else is done. (This is not necessary). The wax can be then be reused if heated and strained through cheesecloth. Wax can be removed by immersing in boiling water, when cool, the wax on the top can be picked off and the fabric dried and ironed free of wrinkles. (I feel this method to be risky to use on a detailed batik image.) I iron the wax out of the fabric. As with all heating of wax processes, the fumes should not be inhaled. So iron out only in a well ventilated area. Industrial masks with filters are available as well to protect against fumes. Dry cleaning solvents are available, but should be used after most the wax is ironed out.
When I iron the wax out, I first prepare a flat table with several layers of old printed newsprint, then a layer of plain newsprint or paper towels. Do not let the batik touch printed newsprint or the headlines may become a prominent part of the image. Place the batik on top of these layers and then cover first with plain newsprint or paper towels, then several layers of printed newsprint. The printed paper helps to keep the costs down and all plain newsprint can be used if desired. The iron now moves over the whole image until the paper is saturated with wax. Then all the waxed paper is removed and new is placed under and over the batik. The process is repeated until no more wax is absorbed into the paper. The time it takes varies depending on how much wax is in the image and the size of the batik.  Always keep in mind the flammable nature of wax. Dispose of the waxed paper carefully.
Batik paintings that have the wax removed always come with surprises from the interaction of wax and dye. It is fascinating to me. With ironing, the batik always have a wax residue that gives a slightly stiff parchment like feeling to the cloth. After ironing, dry cleaning may be used to remove the rest. Solvents are available, but I do not want to have to work with or dispose of them. A finished batik can be ironed and should not be displayed in sunlight as in time all things will fade. Museum glass gives good protection here, but is very expensive.
The batik can now be mounted on a wooden hanger, another large piece of fabric, be dry mounted and framed or stretched on canvas stretches over a cotton backing. Enjoy the brilliant colors and unique veining in the wax where ever you decide to hang your batik.
I hope you have read my description of batik separately before reading this (can be after). As batik is traditionally done on fabric we need to start here. Natural fibers with no sizing or synthetic fibers are best. I usually work with fine cotton in creating my hangings and framed pieces. Silk is also an elegant fabric to work with, but not one to learn with.
Before applying wax the fabric should be washed in hot water and professional detergent and thoroughly rinsed. When dry and smooth it can be tacked on a stretching frame. This can be canvas stretchers or a frame as is used for silk painting. I have two large boards with raised wooden sections at each end that I can tack the fabric on. These can be re-adjusted with canvas stretches in between for even smaller pieces. You can see larger batik images tacked to the stretching table, and also a very long one tacked to a higher board at the back of the table. Photos are included showing my table with an average size batik in progress as well as a large batik and an extra long batik in progress.
You will see the white fabric with a slightly darker area on this first stage of batik. This is where the wax has penetrated the fabric. Areas waxed on the fabric in this first stage will remain white throughout the stages of batik to come. Pictures of me applying wax are included. The tjanting tool is shown. This is a copper or brass bowl with a spout that is used to create lines. There are different size spouts available; small medium and large which make thinner or wider lines. The wax never stops flowing from the tjanting until it is empty or becomes too cool. You can see me holding a cloth or towel in my left hand which is there to catch drips from the tjanting when it is between applications on the cloth. Drips are permanent and wax is an unpredictable medium, spreading out as it feels, what happens must be worked with or discarded. Electric tjanting tools are also available, but I am not using one at this time. Wax is applied with many sizes and types of brushes. the brushes
need to have some quality to them but not be expensive as the hair can deteriorate in the heat of the wax.
There are many kinds of wax. I use a mixture of beeswax and paraffin wax. Pure beeswax will resist with no crackle (the veining that is seen in batik), pure paraffin the opposite, so much crackling as to have pieces falling off the fabric. I blend a little heavier with beeswax than paraffin and the mix can be varied to suit the artist. If more crackle is wanted, use more paraffin, if less, use more beeswax. Cold weather will create more crackle than summer. ( the freezer can be used to chill wax in the summer if lots of crackle is desired). Soy wax is another wax alternative.  This is a vegetable wax and the smell from it is not toxic as paraffin is. It does not produce as crisp a line as the beeswax- paraffin mix. The dye slightly bleeds into it and produces a muted color, but not a bright white. It can be ironed out and also washed out using very hot water and detergent. ( Do not use your washing machine unless you have extremely hot water.) Synthetic "sticky wax" is also available as a substitute for beeswax. It is  a bit cheaper and gives similar results.
I use an electric frying pan to heat the paraffin beeswax mix and hold the temperature where I want it to be. Wax is very flammable, so be sure to keep it at the proper temperature. beeswax 150 degrees, paraffin 145 degrees, sticky wax 175 degrees, and soy wax 150 degrees. I have a smaller melting pot pan for my soy wax mix. See photos. Bear in mind that different kinds of wax can be added to areas of a batik to provide varying effects. Do not heat over 250 degrees as this not only produces fumes, but can burst into flames. ( flash point).  Should a fire occur do not fight with water, cover and smother and if that isn't possible use a fire extinguisher for  electrical or oil based fires.
When waxing always have good ventilation, a strong exhaust fan or out in a garage with a cross wind. To be safe ideally use a respirator mask. My studio has an exhaust fan to whisk the fumes up and away from my nose and out of the room. If  the wax is not hot enough it will sit on the surface of the fabric and not penetrate enough to resist the dye. If it is too hot it will sizzle and bubble into  the fabric and make a porous surface that dye will seep into.
In showing the wax applications in my photos, I have jumped ahead to show me applying wax after the first dye bath as well as on the clean white fabric of first wax. After you have applied the first wax areas please go to my tutorial on "Mixing Dyes."