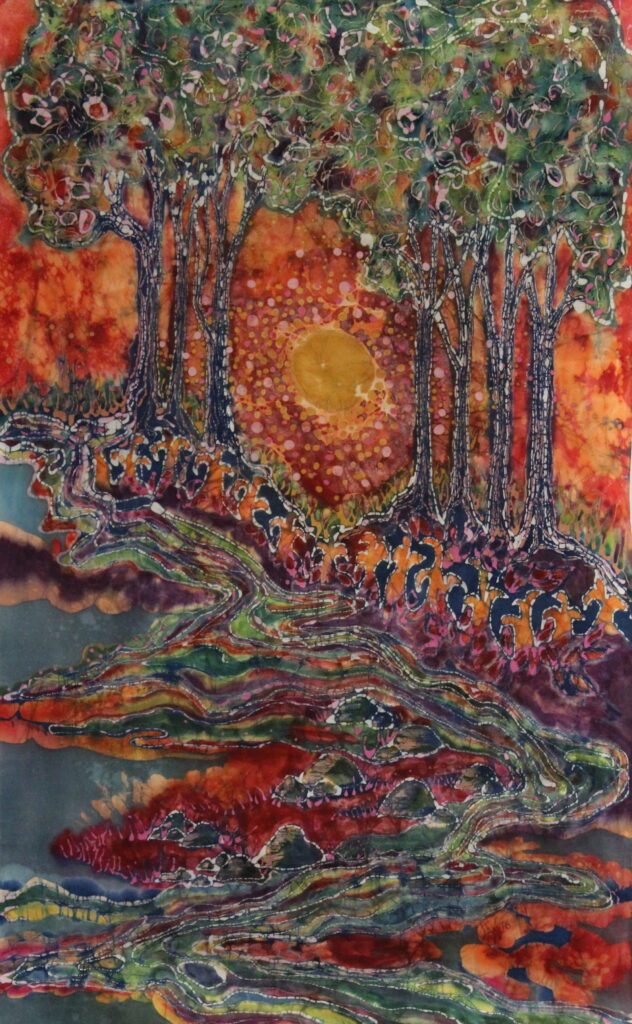 Kaleidoscope in Fiber – Show
Map Unavailable
Date/Time
Date(s) - 03/02/2019 - 03/27/2019
All Day
Location
Crandall Public Library
Categories
"Kaleidoscope in Fiber," a show of works from artists Carol Law Conklin, Charlene Leary and Kris Gregson Moss, opens March 2, 2019, and runs through March 27, 2019, at Friends Gallery at Crandall Public Library in Glens Falls, New York. An opening reception will be held on Thursday, March 7, from 5:00 pm to 7:00 pm with light refreshments being served.
Carol Law Conklin grew up in New England and spent her youth in country areas of Maine, New Hampshire and Massachusetts. Horses and art were her main love and when she was not riding and caring for her horses she was drawing and painting. She graduated from Massachusetts College of Art in Boston, Massachusetts and studied printmaking at the Museum School of Fine Arts. She also spent one summer studying printmaking at the Europa School, Viale Adriatico, Rome, Italy.
Soon after Carol discovered the batik process and fell in love. Batik is an ancient method of painting on fabric with wax and dyes. In the batik process as well as printmaking the artist must work with the negative space to create the art. Fascinated by this ancient art form, Carol produced lots of artwork. Nature, the seasons, cycles, mythological and primordial themes were and still are Carol's inspiration. Her work has been shown in many New England and New York Galleries and sold across the country and abroad. To shop or learn more, visit www.amityfarmbatik.com.
Charlene Leary's mixed media pieces layer thread, dye, paint, and metal into patterns and forms that reflect the natural world. Leary found her expressive voice in weaving during a required college course for occupational therapy training. She moved to New York in 1973 to practice occupational therapy and continued to expand her learning of weaving and other fiber arts.  Leary has studied with notable instructors including Lia Cook, Catherine Ellis, Joan Morris and Polly Sterling.
Over the past 35 years, she has taught weaving and surface design and exhibited her artwork throughout Northern New York and New England. She lives and creates art in Lake George, NY.  To learn more about her work, visit www.charleneleary.com.
Kris Gregson Moss is an an artist who embraces designing with the colors, textures and patterns found in fabrics. Her compositions often express movement, sometimes over flat surfaces, but more often through dimensional forms. They are enhanced with threads, yarns, strings, beads, wires, and found natural items such as sticks and stones.
Kris has been sewing over five decades with much of her inspiration coming from her native Adirondacks. Her work has traveled both nationally and internationally. Currently, her work may be seen at LARAC in Glens Falls, Valley Artisans Market in Cambridge, and in her new studio, Moss on the Hill, in Hebron, NY, where she teaches and creates. For more information, visit www.mossonthehill.com.